ADVANTAGES AND ASSETS FOR SUCCESS
Vienna Airport is a unique hub for the media because it produces top media performance figures and quality of contacts. The approximately 23.7 million passengers passing through the airport every year spend some two hours in and at it. This time is passed in a highly consumption-friendly environment that is comprised of more than 100 shops and gastronomic facilities. 86% of the advertising-relevant target group is in the segment of people between the ages of 14 and 54. 30% of the passengers are business travellers. Complementing the total number of passengers are the roughly ten million people who bring and fetch the passengers every year and help them get around the airport, along with the 22,000 staff members working for and at the airport. All this adds up to a huge potential of targets for your campaign.
PROFESSIONISALISM
Advertising at the airport offers you a great diversity of opportunities to design and conduct your campaign. This diversity enables you to position your media on the airport's premises in ways permitting you to reach your target group. The airport's portfolio of products features a wide variety of media. They include such classic ones as light boxes and city lights and extend to such digitally-based large-sized installations as Terminal 3's "Mega Wall", large-scale video walls and the 144 advertising monitors found in the central baggage claim area and displaying synchronised content. This diversity of equipment and location permits you to make use of all communications channels.
Vienna Airport's "Digital Focus" is comprised of eight networks, five hotspots, and about 300 screens. All these are available for use by advertising customers. These screens are up to 98 inches in size and have resolutions of up to 4K. This technical equipment is teamed up with an advanced content management system. It all adds up to capabilities enabling the creation of individual solutions comprised of the ideal combination of moving pictures and supplying information. These solutions meet the needs of each and every budget.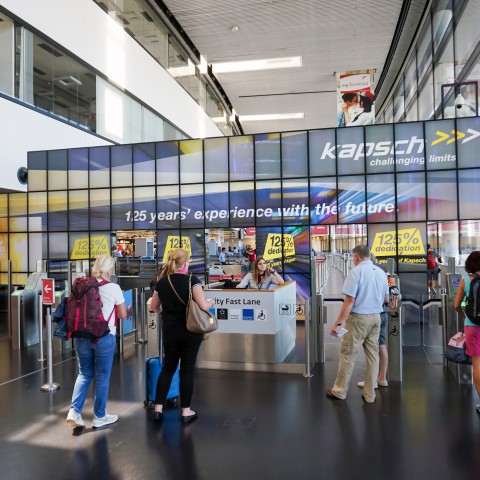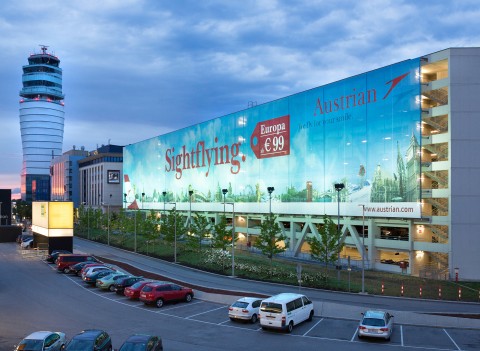 INTERNATIONALISM
Vienna Airport is located in the heart of Europe. The Vienna metropolitan region is one of the continent's most dynamic areas. Geography and economic dynamism thus join to make the airport one of Europe's great hubs and venues for advertising. In turn, these factors comprise the basis for the number and quality of contacts available for targeting at the airport.
The passenger volume of 23.7 million in 2022 underlines the dynamism of this medium. A large part of the passenger potential arises from business and tourist traffic with countries of Central Europe. This trend will be set forth in the years to come and constitutes a great potential for businesses wishing to make use of Vienna Airport as an advertising venue. This unique quantity and quality of potential consumers combines to make Vienna Airport a highly attractive platform of trans-regional marketing and advertising.