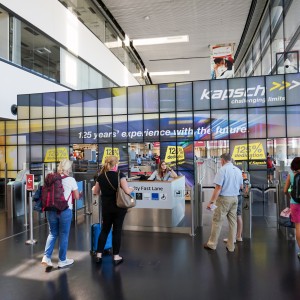 Mega Wall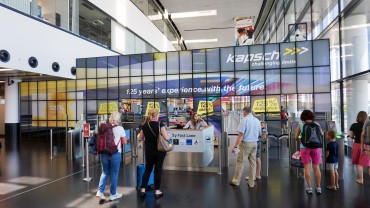 Target group
Departures
Non-Schengen
Schengen
78 screens – 46-inch full-HD monitors stacked on top of each other
Location: Terminal 3, boarding pass checking stations with access to the F and G gates
This innovative advertising medium employs unusual presentation technologies and boasts an exceptional location. They yield a high quality and quantity of contacts (more than 11.7 million passengers a year).
The over-sized Mega Wall is comprised of 78 46-inch full-HD monitors stacked on top of each other. It is located in Terminal 3's boarding pass checking area, which provides access to the F and G gates. This location ensures that your campaign will reach virtually all (!) departing Star Alliance passengers, including those travelling to both Schengen and non-Schengen countries. You also reach a large number of persons accompanying them.
The Mega Wall deploys advanced content management software. This gives rise to a variety of image-in-image options. These can be deployed to create high-impact production presentations and image-building advertising. An option is to make use of the 78 full-HD monitors in a variety of clusters. Clustering enhances the impact of the advertising materials by drawing viewer attention to the targets established by the advertiser.
This variety of media is capable of being displayed synchronously and in the greatest of resolutions. The client has the option of individually determining the use to which each area is to be assigned, be these to display stills or videos. The client also gets to determine which basic configuration of the Mega Wall best conveys its campaign.
We're looking forward to consulting with you on your ideas.
Your contact person
Wolfgang Elwitschger
Outdoor advertising drone video